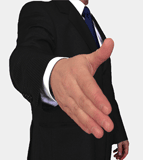 Our team comprises of people with rich experience and knowledge that they have imbibed through decades of successful Entrepreneurial/Top Management exposure in various Industry segments. People who have built companies from Ideation to implementation, growth & maturity, People who understand the nuances of Organizational Functions, Technology, Process and Best Practices. And finally, people who have been groomed by some of the Premier Management Institutions & Universities of India.
Uday S Desai (u.desai@transmorphe.com)
Having completed his Masters in Business Administration(MBA) from a reputed Indian University in the year 1985 ,Uday has been exposed to over 20 years of entrepreneurial experience in managing Information Technology, ITES and BPO services organization.

From an entrepreneurial idea that emerged at an early stage in his career, He went through a Complete Life cycle experience in building a successful corporate entity with a presence in multiple Global territories. He has Cross Functional expertise specialized in Strategic Management & Marketing. He has worked with several clients from multiple industry verticals viz: Banking, Manufacturing, Health Care, Supply Chain Management, Trading & Hospitality.

Uday provides thought and entreprenuerial leadership to organizations in the following areas :
Business Planning & Corporate Strategy development
International Marketing Strategy development
Corporate Funding
Business Partner network development
Sales Force Training & development
Product /Project Management
Quantum process improvements
Software Development Life cycle
Service Delivery Management
Operational Strategy development & implementation
Technology management
Manufacturing /Production
Complete Six-Sigma Implementation We have a network of professionals around the country..,
Entrepreneurial Development A unique 10-day program for young and upcoming businessmen.
View More
Transmorphe Management Consultants©